The Idyllic Suffolk Countryside Surrounding Southwold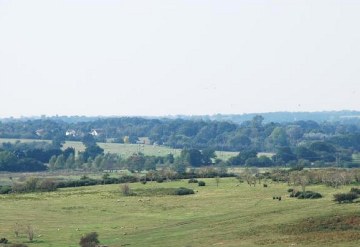 Southwold is surrounded by idyllic Suffolk countryside
The north Suffolk coastal area around Southwold is a land of undulating countryside rich with public footpaths, oak-tree lined minor roads and lanes, productive arable fields, beaches of both shingle and sand, crumbling cliffs, marshland, and heather-covered commons, all under open skies where the star-spangled night sky can be seen in all its glory. Here too are otter and kingfisher at home along river banks, hares, wild deer, a wealth of native birdlife as well as bird migrants visiting by accident or design.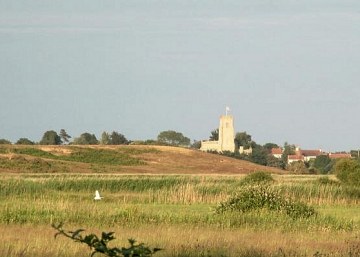 Here you can see a barn owl in flight
Scatterings of houses and farms shelter in ancient lanes with villages tracing their beginnings back many centuries before Domesday. The village church stands as testament to past wealth and glories. These churches, rich in an atmosphere of hundreds of years of humble worship, are an important part of the modern-day community. Suffolk's churches contain notable fonts, screens, pews and all manner of historic interior items of interest and are well worth a visit. Some churches have a round tower, something seldom found outside Norfolk and north Suffolk.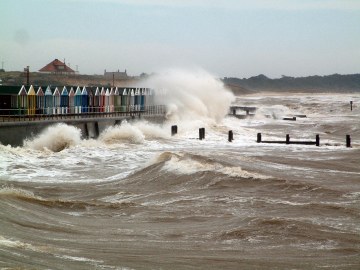 Heavy Seas breaking over the beach huts near the pier in July 2004
This unspoiled coast can be idyllic at any time of year but Nature can still exert her force at times, whipping the North Sea into a foaming frenzy, or sending an eerie sea mist ashore, dank and cold, or just letting that Lazy East Wind blow ("It blows straight through you being too lazy to go around"). At such times, perhaps surprisingly, it is good to venture out, wrapped up warm, just to give your senses an experience. To see and hear the timeless ebb and flow of the sea can be fascinating at any time but when a storm is brewing and the waves are building, relentlessly driven by a strong wind, these are exciting times. To return indoors to drink a cosy hot chocolate, or stop at a pub for 'something stronger', pleased at that moment that you are not aboard a ship out in the storm, can bring a wonderful sense of well-being. Indeed, such times can be refreshing, helping us to reflect and put our lives and concerns into perspective.