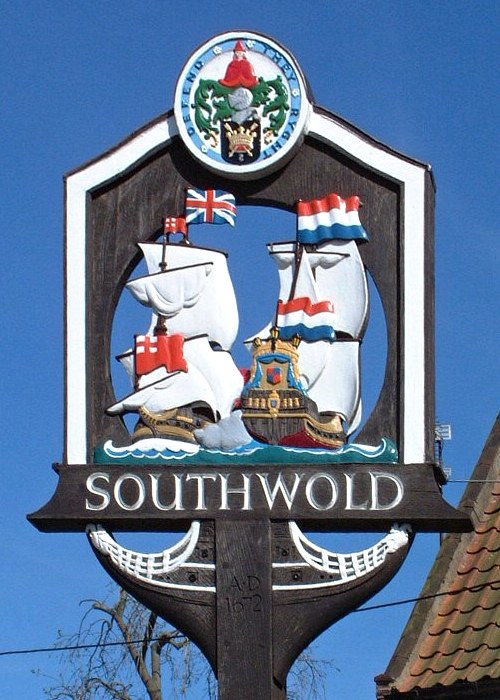 Southwold Town Sign
The Southwold Town Sign
At the landward end of Southwold High Street, at its junction with Victoria Street, stands the town sign. This depicts galleons at sea, recalling the tremendous sea battle fought off Southwold – the Battle of Sole Bay. This was in May 1672, when the allied fleet of England and France were engaged in battle against the Dutch. At this time the coastline here was very different, with the bay much more defined, due to land at both Dunwich to the south and Easton to the north extending considerably further out into the sea.
Southwold Museum, located in Victoria Street, is a good place to visit for those wishing to know more.

Note that the sign shows a British flag different from the one we know today.
In the early 1600s, following the succession of James VI of Scotland to the English throne as James I, the English flag (red Cross of Saint George on a white background) was combined with the Scottish flag (diagonal white cross of Saint Andrew on a blue background). This became England's official flag on 12th April 1606.
Wales, conquered by England hundreds of years earlier, was automatically represented by the English flag.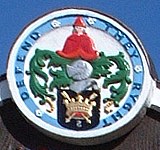 Our present 'Union Jack' came into being after Northern Ireland became part of the UK in 1801. The addition of Saint Patrick's flag (red diagonal cross on a white background) completed the design now so familiar worldwide.
The sign also shows the Southwold Town Seal with the town motto 'Defend They Ryght'. Southwold is proud to have a fine civic history as befits a town whose Charter was granted by Henry VII. Some of the Fairs and Markets still held in Southwold have an illustrious history too, as the right to hold them dates back to the original Charter and sometimes beyond. Nowadays there is a Town Council, with offices in the Market Place, and a Town Mayor. Other civic appointments include the Bellman who makes announcements from time to time throughout the town in true town crier tradition.