Local Clubs and Groups Southwold Links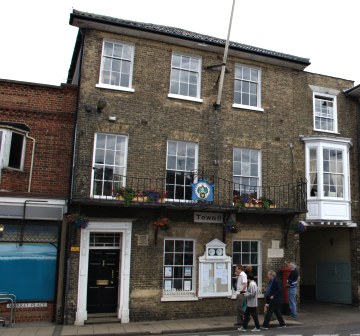 Southwold Town Hall
Southwold Railway Trust
The Railway operated between Halesworth and Southwold 1879-1929, with intermediate stations at Wenhaston, Blythburgh and Walberswick. Visit their shop at 27 High Street, Southwold, which is full of all sorts of related goodies and items of interest.
[ website ]
Circle 67 Players
Established in 1967, this amateur dramatic society perform in local venues.
[ website ]
Waveney Valley Model Railway Club
Enthusiastic group for this area. Exhibits annually at Saint Felix School near Southwold.
[ website ]
Blyth Estuary Group
Following the September 2005 publication of the Environment Agency's (EA) Blyth Estuary Strategy Preferred Options, local people became deeply concerned that the proposed Managed Realignment of the southern river banks would have a serious effect on the future of Southwold Harbour and the safety of navigation within it. See the website where you can learn more, view impressive photographs, sign up to receive further information and donate to this cause.
[ website ]
Wrentham Band
Wrentham Band is Britains most easterly brass band, formed in 1919. The Band is made up of all age groups and actively welcomes new players of any ability. Can be seen and heard around the area at many different venues and are a well respected concert band. The Band rehearses on Mondays at Kessingland Working Mens Club, Kessingland at 7.30pm.
[ website ]
Halesworth Cycling Group
Based in the north Suffolk market town of Halesworth, which is on National Cycle Route 1. This friendly Cycling Group arrange local guided cycle rides. See website for details.
[ website ]
Suffolk Beekeepers Association
The Suffolk Beekeepers Association aims to promote the craft of beekeeping. The Association is a thriving community of over 200 beekeepers, with local branches throughout Suffolk including Leiston and Waveney.
[ website ]
1st Southwold Scouts
News and contact details for the four Scout sections in Southwold.
[ website ]
Blythburgh Singers
This local mixed voice choir, conductor Andrew Jenkins, sings regularly at Holy Trinity Church in Blythburgh, in addition to other venues. Also available for private events.
[ website ]
Southwold Model Yacht Regattas
Enthusiastic, historic club holds annual competitions at Southwold model yacht pond (opposite Pier).
[ website ]
Waveney Greenpeace
Website of local Greenpeace branch, featuring events, contact details and info.
[ website ]
Southwold Sailing Club
Situated at Southwold Harbour, the club aims to promote coastal sailing.
[ website ]
Southwold And Reydon District Rainbows, Brownies And Guides
Local Contact details given plus full information of the North East Division in Suffolk of the excellent Girlguiding movement.
[ website ]
Southwold Golf Club
Southwold Golf Club is a members club, established over 120 years ago. Visiting golfers can be sure of a warm and friendly welcome, a good test of golf with great views, and a comfortable clubhouse with excellent bar and catering facilities.
[ website ]